Thank you to all Volunteers who assist with our programs; with Worship; with Maintenance of the church property; for those involved in Fundraising activities; for administration; for music;  for supporting a diverse

number of people outside the church
 Tuesdays Community Lunch  
A Warm welcome to all.

Meal served between 12 noon and 12.30 pm with time to enjoy a congenial lunch with others until 1pm.
SHARE  –  HELPING THOSE WHO NEED A HELPING HAND
The people of the Echuca Moama Uniting Church provides a lunch program most weeks of the year. This is made possible through the ministry of the SHARE program. Community-based organisations and some businesses generously support this important ministry through donations and volunteer support.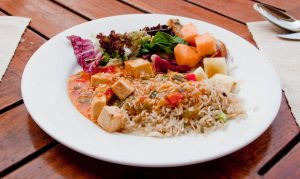 Lunch helps women and men who are struggling to raise families, people who are unemployed, lonely or with some of the other difficulties that people of today face. Those who can, give a gold coin donation for their meal.
A team of volunteers provide appetizing food as well as a friendly face and an encouraging word. Meals are served except on public holidays and a short break after Christmas & New Year. Enter through the Pakenham Street entrance (next to Marketplace Crafts Shop) of the Church.
The happy crew once again put on a great menu with main courses such as roast chicken, spaghetti bolognaise, lasagne, casseroles, vegetables and other wonderful dishes.
If you would like to volunteer to assist with this program, please call in and speak to someone in the church office.
Marketplace Crafts.
Open Monday to Fridays 10am to 2pm –  except Public Holidays
Our 'Marketplace Crafts' shop sells items provided by local talented craftspeople, providing them a chance to sell their handmade goods on a commission basis. Items include Christmas gifts, toys, knitting, biscuits and jams, baby clothes, quilts, china painting, linen, cards, and much more.
All money raised goes to local charities. In its fifteen years, the shop has contributed to organisations such as Values 4 Life educational programs, bushfire and flood relief, STEPS, Angel Flight, Heart House, School Chaplaincy, Echuca Hospital and our breakfast and lunch programs. It is entirely staffed by volunteers.
The shop is open weekdays, 10am to 2pm. It is located on the Pakenham Street side of the church.
 STEPS DROP-IN CENTRE 

 
OPEN  in the Uniting Church Chapel – entry from Hare St.

Wednesday to Friday
10am – 12.30pm
If you have time or skills you can offer STEPS, particularly in the areas of Hairdressing, Chiropractic and Massage therapy,  please drop in for a look and a chat.
PO. Box 956, Echuca, 3564.   
Phone 0491 607 262 (new number)
Email:  
Although STEPS is a non-religious organisation, it is supported in Echuca by our Church and is held in the lower hall 10am – 12.30pm each Wednesday, Thursday and Friday.
STEPS offers companionship and a cuppa if you need a friendly face and a warm and welcoming place to go.
STEPS has health and care workers who give free consultations when your body is aching and your mind is stressed and you can't afford to see anyone.
STEPS is run by local people who volunteer their time to help others who may be going through more difficult times. Some of our volunteers started at STEPS as clients.
STEPS offers different services depending on current volunteers and may include:
Snacks
Chiropractic, Massage, Relaxation/meditation, Reiki
Hairdressing
Anyone with either a health care card or pension card is eligible. There is no charge for services but donations are accepted or any other form of exchange is welcomed. For instance, clients may wish to become volunteers, or bake cakes, or help with the chores.  However, these contributions are not necessary for the person to be treated at the centre.
It is better to light a candle than blame the darkness.
Other areas of Ministry are:
Aged Care worship services- resumed at Wharparilla Lodge and Cunningham Downs. 1st Friday of each month 10 am and 11am. BUPA aged care on 3rd Friday of each month at 10.30am

Grocery collection for foodbank

Support of local community projects-
Wider Mission:
Supporting the work of Uniting Church Australia and other organisations
The church supports such ministries as:
Sammy Stamp

Lenten Offering

Christmas Bowl Appeal

SHARE Appeal and Pancake Day

Flying Doctor Services

Overseas Mission

Rural Australians for Refugees

Disaster appeals after bushfires, floods, earthquakes or other major traumas.

Timor Leste
just to name a few!