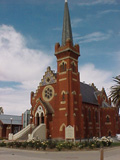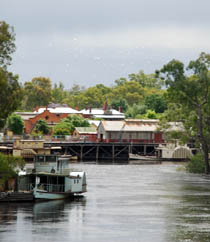 Our Vision as the people of Echuca-Moama Uniting:
This church has the worship of God the Creator, Jesus Christ, and the Holy Spirit as the core of its being.
We welcome as part of the church family all who attend from both near and far.
As "The Church in the Marketplace" we seek to convey God's love to the world by meeting all kinds of human need in everyday life, both here in our own community and elsewhere in the world.
The way of the wicked is an abomination to the LORD, but he loves him who pursues righteousness.
Proverbs 15:9
© English Standard Version Bible Daily Verse

Contact us on (03) 5482 1430 or echucamoamauca@bigpond.com
Welcome to our website. We look forward to meeting with you personally.
Come and join us in worship or any of our other numerous activities

Look at our calendar

Visit the Marketplace Crafts Shop

Join in our breakfast or lunch program for people who are having a bit of a struggle

Meet our ministry team

Book a wedding
Centrally located at the corner of Hare and Pakenham Streets Echuca
(Near the water tower and fire station, at the southern end of the main shopping area)
More about us and what we offer
Are you on FACEBOOK, we are!!! Please join us or like our page. The address to type in the Facebook search box is Echuca Moama Uniting Church or type "www.facebook.com/unitingchurchechucamoama"
directly into your internet browser.

---
History
 The Presbyterians of Echuca first began worshipping together in 1858 and the Methodists began meetings probably in the same year.
In time they each built churches, the Presbyterians initially in Dickson Street and the Methodists near the new bridge.   The Presbyterians acquired a more central block on the site of the local market and built their new church opening in 1901.   The architect was a local man, Mr A E Castles who also designed St Mary's Roman Catholic Church at the other end of the main shopping area, providing a nice balance to the town layout with the two spires.   Our current building is heritage listed and has the unusual feature of the worship space being built up the steps and the main hall area being underneath.
With the wonderful initiative of the formation of the Uniting Church in Australia the Presbyterians and Methodists (together with the Congregational Church as well) in Echuca and Moama formed one parish.  After much hard work and with many hopes and regrets, decisions were made to close the Wesley building and combine the wonderful heritage of the two congregations into a new and vibrant congregation on the St Andrew's site.   Substantial renovations were undertaken, increasing the usefulness of the buildings and especially adding The Wesley Chapel as a new feature.   Thus combined on the site of Echuca's old market we call ourselves "The Church in the Market Place".
In 2008 the congregation celebrated 150 years of worship, service and witness in these communities.  In thanksgiving we planted 150 trees near the Campaspe River as a thankyou to the community for its support.
A comprehensive record of aspects of the church'shistory is available in a book entitled "From Market to Marketplace", which is available from Marketplace Crafts (see below).
Highlights
In the past couple of years our highlights include:
active leadership in the town's Celtic Festival and promotion of Celtic Spirituality events

average attendance at worship of 90 people weekly

continued growth in a breakfast and lunch program for people who are struggling to cope,  in partnership with Share Appeal

the annual Christmas Cantata on the second Sunday of December

participation in community events such as Jazz and Wharf Heritage festivals

celebration of 150 years of the congregation in June 2008

continued sponsorship of STEPS Hands on Health Centre in our premises which was awarded the Shire of Campaspe Community Organisation of the Year for Echuca in 2009

support for the Kanyana Auxiliary which was awarded the Shire of Campaspe Community Organisation of the Year for Echuca in 2011

loving to join in "Christmas on the River", the local ecumenical award-winning portrayal of the Christmas story along the banks of the Murray River

continually increased giving to Share and Christmas Bowl Appeals and to the Echuca College Chaplaincy Appeal

welcoming new arrivals into our fellowship

a growing partnership with new Arts Initiatives in Echuca-Moama

continued growth in our retail shop "Marketplace Crafts"

a Prayer Vine of more than 30 people who pray for people in need

a Hospital and Aged care visiting program with more than 30 members on roster

regular leading of worship in 3 aged care homes

development of our family oriented evening worship WOW!

an annual Flower Festival on Echuca's Heritage weekend in October

active participation in ecumenical events including Good Friday Walk of Witness, and a regular prayer group

three Bible Study groups

over 70 volunteers gave time and effort towards our fete on the Cup weekend in November

a growing number of weddings and participation in the Echuca-Moama Wedding Expo

From time to time courses are held  such as the "Alpha" course that helps people understand about Christianity.
Marketplace Crafts
"Marketplace Crafts"  is open for anyone to purchase lovely crafts & also to have a chat. All money raised goes to charity organisations.
They provide a wonderful range of home made craft for sale.
Most stock is provided by local talented crafts people, providing them a chance to sell their crafts on a commission basis.  It is all home made.   Items include footy nuts, wooden pull along toys, knitting, biscuits and jams, baby clothes, paintings, cards, quilts, china painting, upside-down dolls, and much more.
We also have church recipe books, history books, song books and magnets.
The shop is opened every weekday from 10 a.m. to 3 p.m. and on some Saturdays.   Bus parties are welcome and bookings can be made out of hours.   It is located in the Uniting Church buildings next to the fire station, at the Pakenham Street door.   It is entirely staffed by volunteers.
In its nine years to 2011, the shop has contributed $32,000 to organizations and needs such as Values 4 Life educational programs, bushfire and flood relief, STEPS, Angel Flight, Heart House, School Chaplaincy, Echuca Hospital and some to the local Uniting Church.
Breakfast & Lunch Program
SHARE  –  HELPING THOSE WHO NEED A HELPING HAND
The people of the Echuca Moama Uniting Church provide a breakfast and lunch program most weeks of the year. The Uniting Church in Australia through the ministry of the SHARE program offers a helping hand to people in our community, Community based  organisations and some businesses generously help support this important ministry through donations and volunteer support.
Echuca Moama Uniting Church, "The Church in the Marketplace" – serves this commu­nity with breakfast and lunch meals to help women and men who are struggling to raise families, people who are unemployed, lonely and with some of the other very real needs that people of today face. A team, who are all volunteers, help in this small but friendly way.
Breakfast :
Every Monday, Wednesday & Friday morning from 8:00am to 9:00am.
The Echuca Moama Uniting Church opens its doors on a Monday, Wednesday & Friday morning to those who want a warm and tasty breakfast.
A varied menu from cereal and toast to eggs, bacon & sausages is provided, for the cost of $1.00.
The team provide appetizing food as well as a friendly face and an encouraging word.
Lunch:
Tuesday 12:00 noon to 1:00 pm.
The happy crew once again put on a great menu with main courses such as roast chicken, spaghetti bolognaise, lasagne, casseroles, vegetables and other wonderful dishes served for the cost $1.00.
Meals are served except on public holidays and a short break after Christmas and New Year.
Enter through the Pakenham Street entrance (next door to the Fire Station) of the Uniting Church.
All who attend are made most welcome and the team are there to not only provide appetising food but also a friendly face and an encouraging word.
S.T.E.P.S. – Campaspe Murray's own Hands on Health Centre
P.O. Box 956, Echuca, 3564.
Phone (03) 5480 2357
Email :   steps@impulse.net.au
STEPS offers companionship and a cuppa if you need a friendly face and a warm and welcoming place to go.
STEPS has health and care workers who give free consultations when your body is aching and your mind is stressed and you can't afford to see anyone.
STEPS is run by local people who volunteer their time to help others who may be going through more difficult times. Many of our volunteer receptionists and kitchen staff started at STEPS as clients.
Although STEPS is non-religious it is supported in Echuca by the Echuca Moama Uniting Church and is held in their lower hall from 10 a.m. to 2 p.m. each Wednesday, Thursday and Friday.
STEPS offer :
snacks at any time they are open
Drop in centre
Chiropractic
Massage
Relaxation/meditation
Foot massage
Hairdressing
Reiki
Anyone with either a health care card or pension card is eligible – but . . . everybody is welcome to come in for a look and a cuppa.  Find out what is on offer . . .  and you may find you have time or skills you can offer STEPS.
There is no charge for services but donations are accepted or any other form of exchange is welcomed. For instance, clients may wish to become volunteers, or bake cakes, or help with the chores.  However these contributions are not necessary for the person to be treated at the centre.
It is better to light a candle than blame the darkness.
..
Trail Blazers is an important part of the Church's ministry. The children meet in the church at 10:00am and participate with the rest of the congregation in worship. They then go out to their special time in the church hall and have activities that help them understand about the love of God in their lives.
..
There are small groups that meet to study the Bible and share and care for each other. Other groups make banners for worship, discuss social justice issues and plan for worship events.
..
The Ladies – UCAF Guild and the UCAF Evening are wonderful opportunities for women to meet together for fellowship and encouragement.
..
Music is an important part of our worship. The choir leads our singing and enhances our services. The instrumental group participates from time to time.
..
Our Church is proud to belong within the Uniting Church in Australia with its wide ranging ministries throughout Australia, in aged care, community service, the outback (Frontier Services and Chaplaincy in schools, just to name a few.
..
Use of buildings. . .
Our buildings are a great resource for the Echuca and Moama communities as well as for the church's own activities.
The congregation makes its facilities available to outside groups for their use such as:
Echuca-Moama Artists annual exhibition in the September school holidays
Red Cross
Cooma Male Voice Choir
CWA Conventions and craft exhibitions
Chaplaincy fund raising eventsCRE Accreditation courses
Kanyana Auxiliary events
A support group for people impacted by the drought and flood
School of dancing
The halls and the church are each available for artistic and cultural events.
We also allow the hall to be hired for selected private functions.
Details of hiring are available from the office.
..